This is a sum of all the books like they will be in the full tome. It's not the waalx speaching version. it's the regular one. I wanna wait until I start to waalxify them.I wrote more in the intro, and I started to write the contents of the books. I also renamed many chapters. If you are not happy tell me..but I think the new titles punch a lot more.there's a lot of work ahead of us mine chronicler, as you will see yerself reading the contents.
Original title: Them Chronicles O' Steel
by Waalx
Edited by the Elhazan family and the Vocha family over many generations.
This is the oldest portrait known of Waalx, its obvious here that he was
young at the time it was made. It is also rumored that it was Klow-Stah
who did it, and that it was this portrait (or rather it's subject) that inspired
her Elvin Saber, but that would be another story..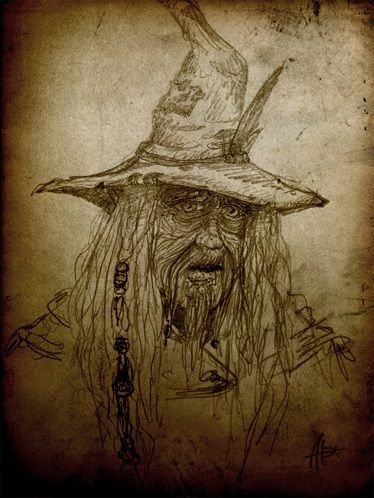 This is what the Ayleid elf looked like for most of his long life.
About the author
Hereby follows the Chronicle of Steel, a tome of vast knowledge concerning the various indigenous bladed weapons of the races of Tamriel. It was written by Waalx, an uncommon Ayleid elf, one or the last of his kind—who some say was "literally" kissed by Sheogorath, a "gift" that, among other less savory things, gave the already long-living Elf an even unnaturally longer chance to walk Nirn—he went against the normal reclusive nature of his people to travel the Empire and study the art of the forge from those who would teach him. His dream was to learn the crafts of all the races.
Over the course of the centuries he lived, he traveled the world, learning from all, and always befriending everyone in his path with his curious eyes that smiled at everything and everyone alike.
He so served kings and emperors, rich merchants and commoners, with his vast knowledge of the world and all it's weaponry.
And what a moment of joy it was said to be for any simple metal worker, to see his cloaked figure appear in their humble doorstep. He removed his old green feathered hat, sat down near a fire, and always said how good a fire that was. And then he entertained them in his sonorous voice, with stories of his faraway travels, and of his studies, always centered on the art of working steel.
In his travels he had learned by many, but he teached what he learned to a lot more, and even in our days and age, his legacy can still be heard, in that special sound of the hammer hitting an anvil, in the sparks that dance briefly as if to acknowledge his presence, yet again.
He was known by the people as the Green Wanderer, and there's almost no land in which is large boots didn't thread.
Recluse from his own race, he sometimes hid himself away for long periods of time, in which he was not seen nor heard of anywhere in Tamriel. It is rumored he was in a hidden lair unlike a normal Ayleid dwelling. What he was doing there is now anyone to guess, the place itself being only rumored to have existed in the wake of his legend.
As he died centuries ago, many of his secrets went to Oblivion with him (or some would say in the Shivering Isles considering his supposed history with the daedric prince), including the true emplacement of this mysterious place where he was going to in his periods of reclusion. Some say the key to finding this secret lair is the last sentence of this manuscript...but…
who could find a statue in a tree?
(Note from the last editor: It has now been rumored by many a one, that readers of theses here Chronicles have been visited by visions and nightmarish apparitions. We want to assure the reader that all this is, of course, false rumors. You will not see anything unnatural appear reading theses lines, unless unnatural it is already in those said lines.)
About the author language
Great care has been put here to keep the feel this manuscript had when it was originally written, centuries ago. The reader can find a detailed description of the differences between the language of old used here, and the modern version we use now in the "Old Speaching Lexicon", sold wherever you got the volume you hold in your hands.
About the editors
The Elhazans…
The Vochas….